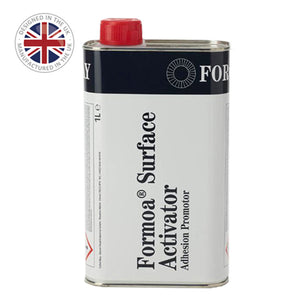 Formoa® surface activator/cleaner was specially formulated as a cleaner and activator combined in one system; a cleaner, degreaser and primer.  This product was designed and manufactured in the UK and is specially balanced to be effective in all climates and environments. 
Formoa® surface activator cleans and etches the surface to promote adhesion and increase durability and is for use on all non-porous substrates, metal/composites/etc.  
FORMOA® Surface Activator features:

Liquid

Easy application
To be used as a cleaner/primer on non porous surfaces
Cleans/activates; plastics, coatings and metals
How to apply:
This product needs to be applied with a clean lint free cloth, applied in one direction.  Replace cloth regularly in order to avoid contamination of the surfaces.  By doing so the surface is cleaned, degreased and activated for the application of a sealant.  Leave to evaporate for 5 minutes.  Apply sealant/adhesive not later than 2 hours after application.