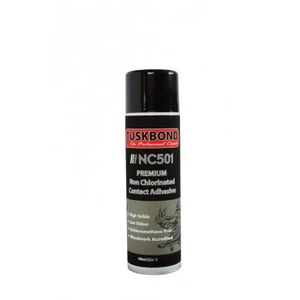 NC501 Premium Non Chlorinated Contact Adhesive Glue Aerosol 500ml is a premium adhesive with a high solids content for superior bonding and grab.  For users needing quality adhesive performance on difficult substrate such as rubber, NC501 is an ideal solution.
Non Chlorinated System
Phenomenal Grab and Excellent Bond Strength
High Solids
Versatile and Long Open Time
Wheelmark Accredited
SAFT Heat Tested 100˚C
500ml Aerosol
NC501 is ideal for creating permanent bonds thanks to its initial bond strength and its versatility with a wide variety of surfaces, or substances including rubber fabric, wood, metals, and concrete.
Perfect for the following industries;
Woodwork & Joinery
Foam & Uphostery
Construction
Rubber Bonding